When there is any kind of CMS development the one and only one thing comes first in our mind and that is WordPress website development. We can see from the past year, the success of the WordPress as a first selection choice for CMS website has been growing enormously. As per the latest surveys, the 1/3 of all WordPress installations were downloaded and installed in the last year. Thus, it shows how WordPress is famous and most favorite CMS of the web developers as well as clients for your website development.
WordPress development is the all time favorite CMS for your exclusive website. It is the perfect platform for the content management system.
WordPress is basically highly user friendly and extensive Content Management System. WordPress is all time preferred CMS among the many content management systems. There are two sides of every coin likewise WordPress has its advantages and disadvantages. Earlier, the WordPress was only considered as a blogging platform, but as time goes, it was proved to be wrong. Exactly!!! It is still the best blogging platform, but it has also developed into a very powerful CMS that can run any of the website.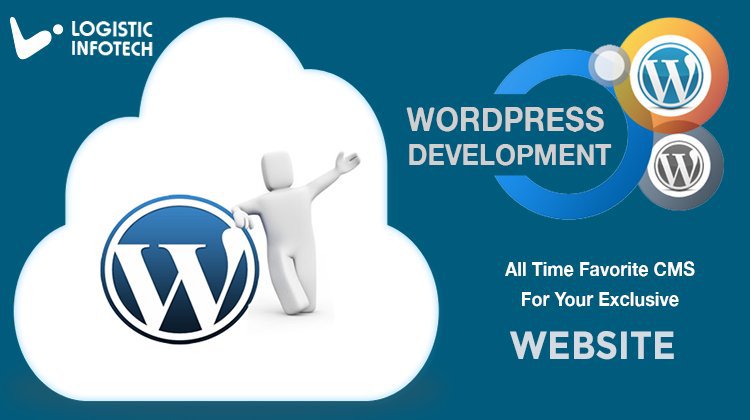 Today, many companies like us (Logistic Infotech) are using WordPress services to power up their website. There are many reasons behind it. Let's discuss some of the basic reasons to use the WordPress.
WordPress is not just a platform nowadays, it is an online community medium which brings bloggers and WordPress website developers together.
WordPress is very easy to use its interface and it is user friendly customization.
Many big and heavy websites are developed by considering WordPress today.
WordPress is cheap, affordable and easy for hosting.
Check out the WordPress slide for better understanding ->
Best WordPress Website Development Service Provider Company India From Logistic Infotech
Many well recognized websites over the globe are up and running which are fully developed in WordPress. Bingo!!! Logistic Infotech has developed its own website using WordPress platform too. We are also a professional team who is working very hard in WordPress Development services. The professional team of the WordPress web development is highly experienced with extensive knowledge of the current IT market, so they can come with the best solutions for their clients.
Now let's just check it out some of the other detailed prospects that why WordPress is very desirable:
WordPress is totally different than other as it is free and open source that's why it is more desirable.
WordPress can be hosted on its own server, it's very easy to host and its download process is also simple.
There is no any kind of issues regarding security in WordPress web development. Once your content is successfully uploaded, then it will be safe and secure.
It is easy to update your WordPress website. If WordPress has some new updates, you just have to download the update and upgrade your website with the new update.
One of the amazing proud feature of the WordPress is the Themes. Simply install the theme from over 1000 themes, without affecting the content.
There are more than 25000 plug-ins in WordPress. Installing plugins is recommended for extra features. For example, a plugin like social media widgets, forums, contact forms, polls and many more offered by WordPress.
The back-end of WordPress is very user friendly. It offers word by word instructions to use WordPress. We can say that it is the most user friendly CMS ever made for both user and the designer.
At Last, the most trending and supportive feature of the WordPress is an SEO supportive feature.  There are some inbuilt SEO features which are completely available for publishing content. Some of the SEO plug-in has Meta descriptions, XML Sitemaps, permalinks and many more.
Actually, the list can go and go on, but I think we should stop it here for today. Simplicity with superb features makes WordPress more desirable. The experience of working with the WordPress is better than any other CMS platform in the IT world. If you are looking for highly advanced and well maintained website then WordPress is the perfect platform!!!