Logistic Infotech is a leading decentralized finance Defi development coDefiy that can help you build scalable and robust Defi platforms across the industry, from dApps and wallets to DEXs and tokens. Our full-fledged Defi development services a wide range of highly sought-after Defi solutions.
Our Defi development company will help start-ups and enterprises replace traditional finance systems with decentralized finance platforms to offer equal monetary services to the unbanked population.
Our Decentralized Finance (Defi) Development Services cover several types of Defi solutions' design, integration, development, support, and evolution. Our goal is to offer companies secure, affordable, and secure blockchain-based financial transactions, safe and transparent fundraising, and many more.
The Defi applications scaling process will be attributed to the absence of the intermediary since it will provide more security and transparency and reduce the transaction fee by 50%. We render decentralized finance development services in the crypto domain to emerging start-ups, corporate companies, and entrepreneurs.
We are backed by over 200 tech-savvy blockchain architects who have worked with countless clients. With our years of experience in the industry, we are the decentralized finance Defi development company.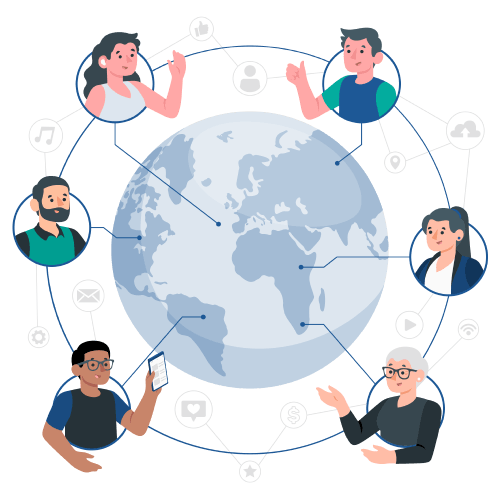 Decentralized Finance (Defi) Development Services
Our knowledge and expertise in this field encompass a wider span of top-notch features and functionalities to help brands like yours become industry leaders.
Defi dApp Development
01
The lack of a central point of failure exponentiates the advantages of the dApps. Build the dApp with the Defi dApp development services and join the Defi business revolution globally.
Defi Smart Contracts Development
02
We will develop autonomous smart contracts to help authenticate or execute cryptocurrency-related fund transactions, agreements, or settlements without adding third parties.
Defi Wallet Development
03
Our efficient team of Defi development will build the Defi wallets and ensure they have complete control of the data and funds. We can help the users access and secure the data without relying on a third party.
Defi Exchange Platform
04
As the top Defi development company, Logistic Infotech will help you to create a top-notched Defi exchange platform that will facilitate the easy trading of the Defi tokens and manage the Defi wallets.
Defi Consultation Services
05
Logistic Infotech's consultation services offer valuable suggestions for easy venturing into the Defi Market. We will guide and help entrepreneurs to develop an innovative and unique business model.
Defi Borrowing Lending Platform
06
Create a secure, permissionless, and smart contract-based borrowing platform that will allow users to conveniently supply and lock their funds without any issues.
Defi Fund Management
07
Easily manage the crypto and funds assets of the users by creating their own Defi fund management system to conveniently compound the users' investment and constantly achieve the growth of the business.
Defi Staking Development
08
Our working professional will create the Defi staking platforms that will contribute to the liquidity provisions by availing the governance attributes to the liquidity providers and helping users to unlock the staking rewards.
Defi Synthetic Asset Development
09
Without leaving the crypto ecosystem, you should let your users invest and track real-life commodities by holding the crypto tokens. Instead of buying the whole commodity, users will get fractional ownership.
Derivatives Over The Defi Platform
10
Hedge the crypto risks volatility by launching the Defi-based derivative platform, where smart contracts automate each function. You can consult with our blockchain architects, and they can help you devise the whole business strategy.
Defi Use Cases We Specialize In

Borrowing and Lending
Highly credible, accessible, and cost-effective P2P cryptocurrency loans without any middleman services and user ID verification will offer fast access to the funds for borrowers with handsome investment opportunities.

Payments
Fast, secure, and affordable cross-border and domestic payment transactions, including crypto transactions, without intermediary services. Minimized delays, reduced fraud, and commodity trading because of the use of smart contracts.
Fundraising
The access to the worldwide audience for quick fundraising. An immutable record of the financial transactions for maintaining trust and transparency across crowdfunding projects.

Crypto Exchange
Secure and fast peer-to-peer crypto exchange with full user control over the owned funds and market the established conversion rates.
Defi Insurance
As the best Decentralized Finance (Defi) Development Company, we can help you protect your crypto assets against crypto volatility and security to reduce any potential financial risks.

Crypto Asset Management
Safe storage, streamlined management, and fast and convenient transfer of crypto assets. Managing, creating, and trading derivative assets.

Staking
Locking up the crypto funds for securing the blockchain network, which uses the proof-of-stake consensus protocol in the reward returns.

Yield Farming
Earning passive income through temporarily locking up the crypto assets in the liquidity pools of several Defi platforms.
Perks Of Defi Development
Optimal Cooperation Model
We will offer several cooperation models, including the Defi development process outsourcing. We have a motivated and dedicated team for the Defi development project and Defi development team augmentation
Risk-Free Cooperation
We will analyze the economic possibility of the Defi development for all our client's specific use cases. Moreover, we will develop the proof of concept for testing the viability of Defi solutions in real life if needed.
Prompt Development
We guarantee a quick project start and apply it to the well-established Lean, DevOps, and Agile practices to make sure the implementation of the high-quality Defi development project is on time and according to the budget.
Guaranteed Compliance
Our Decentralized Finance (Defi) Development Company will develop the best strategy to ensure that the Defi solution complies with the KYC regulations, ISO, and other relevant worldwide, industry, and country-specific rules and standards.
Why Choose Logistic Infotech?
Years Of Experience: We have been involved in developing the decentralized app for over a decade, and our experience is reflected in the quality of our work.
Quality Conformance: rigorous testing cycles and quality checks will be done until the completed platform complies with the requirements of our clients and industry performance standards.
Client Collaboration: with the opportunity to work with our technical team and experts through the step-by-step process of dream design with our Defi development company.
You can connect with us now, and our working experts will contact you as soon as possible.
Our Defi Development Portfolio
Meet successful people online! Glambu is a private community of successful, attractive, and ambitious people who deserve a life of luxury and pleasure.
Frequently Asked Questions