The Android Vs Apple battle has been started since last few years and still running in 2015. Both are the operating system but which one is the best still confusion for many of us. Neither has won the title for the perfect mobile OS till today!!! In this year, we hope that it will be solved very soon. May the best OS win the battle, don't you think so?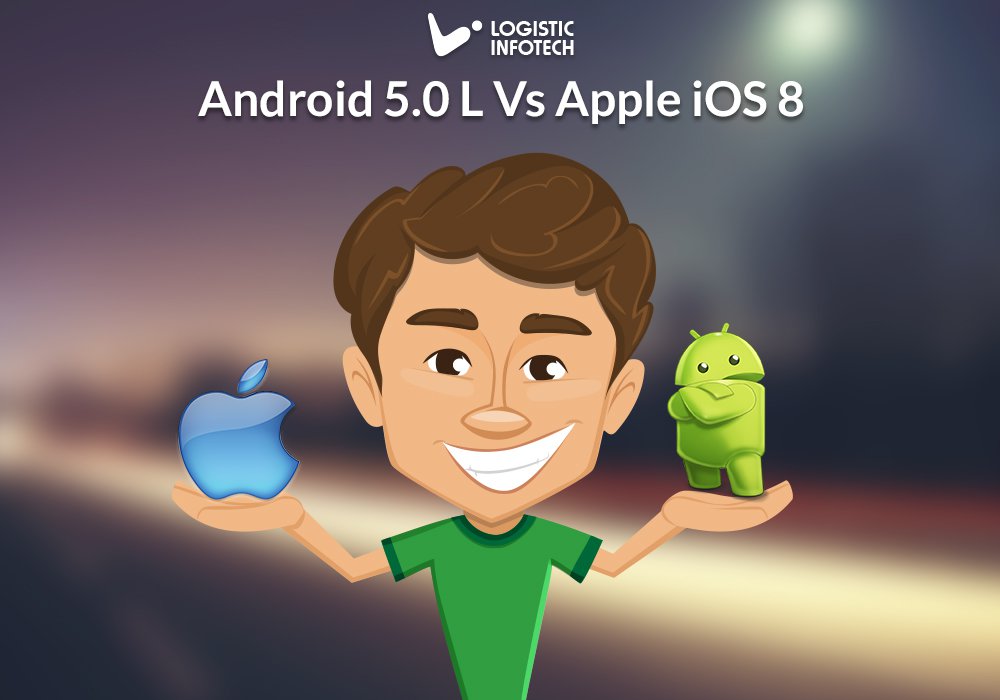 It is going to be utmost challenge in the world of technology 2015 as Google's Android 5.0 L and Apple's iOS 8 together give mobile OS updates periodically. Have a look at their features and decide which one is better as per your point of view by comparing them.
The mobile OS is basically a battle of two players known as Google's Android and Apple's iOS. There are many other OS like Windows mobile and Blackberry OS, but they are not so much popular as the top two companions like Android & iOS. Android and iOS OS are beating each other on each and every step in the mobile OS market. They give us the latest technology features in their OS day by day with their updated versions and people are moving from older to newer versions smoothly.
We basically know that Android and iOS have many features similar apart from their look and feel. They are logically doing the same work as the mobile operating system does generally. They have the same amenities, but differentiate in many ways. As per the current situation demand of iPhone application  development is increasing more and more because users want something new with latest features in the Apple App store day by day. Same thing also happens with the Google Play store. Here, the comparison between Android 5.0 L Lollipop and iOS 8 to determine which one is going to lead the mobile operating system market in 2015 as per the user's mind.
Best Look and Feel:
There is no large difference between iOS 7 and iOS 8 design. The iOS 8 is simply the enhancement and come up with little modification in design of iOS 7.
While the Android L has the many changes in look and feel as compared to iOS. The Google has launched new 'material design' appearance for Android OS. It has nice look enhancements with various color shades based on the content is being presented to the user.
Notification:
Notifications are the alert of many kinds like message, phone call, social networks, calendar reminders, etc. Android 5.0 Lollipop has emerged fresh and new tricks for the notification while the iOS 8 will not deliver any new tricks to you.
It's All About Application:
Both Android and Apple have its own app store having millions of apps in the market across the world. It is a very difficult task to compare the app store from both of the OS because both have amazing and interactive mobile apps on their own store. The iOS gives the preferences for the first time developed app concept as their unique app for the Apple devices only as per their priorities by app's interaction, usage, behavior and popularity as compared to Android devices.
Extended Battery Life: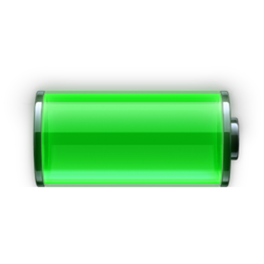 Google Android 5.0 has the facility for saving the Batter that is Project Volta's Battery saving technology. The Android Lollipop will give extra 90 minute battery life by the battery saving mode.  While iOS 8 seem to be a power hungry smartphone.
Features And Functionality:
As we all know from the beginning of the smartphone Android has more features and functionalities as compared to the iOS. They are quite similar so we can say that Android and iOS shares much of the same DNA. Android Lollipop has the facility that how much time is to go for recharging the battery while on the other hand that is not possible with iOS 8. The iOS 8 can tell you which app consumes how much battery instead.
Keypad facility: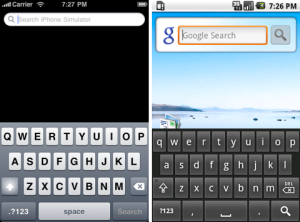 If you are using the Smartphone, then you know that there are many situations when we have to use many keys from the keypad so we have to type each and every key. For the best functionality iOS have given us the new facility that is a third party keyboard which allows user to drag your fingers from one letter to another to perform whole word instead of tapping each key button. While Android L has the facility to long press the letter to input letters.
High Security and Safety: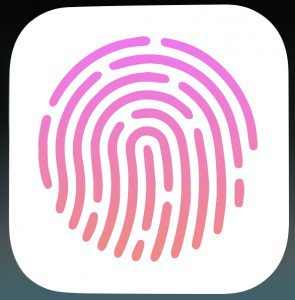 The Apple iOS have proved that they are the king for the phone security because they launched touch ID detection, fingerprint scanner on their new iOS 8. Google has also some well ordered safety action which helps you to safe your work phone, tablet locked as android developers works on Android App Development by mentioning all the security issues on the Android device.
Handoff:
The iOS 8 have fresh and big feature called 'Handoff', which helps you to know if any email received while you are going home and asks you for the response if necessary when you reached at home. It helps you in phone calls, text messages, etc. it will be done by signing your phone with the computer by the same account and Wi-Fi network.  Android L has this facility, but using third party apps only. It's not reliable and feasible as Apple's Handoff. If you have chrome book, then the synchronization can be take place and you can unlock your laptop when your Android Lollipop is nearby. It gives the notification to both, mobile device as well as on laptop.
Up-to-date health and fitness:

The iOS and Android both have the new health or fitness tracking system for their own operating system. The Apple has the "healthkit" which works for the health related applications while Android has the "Google Fit". Both are working similar to keep an eye on your health status.
Customization and Widgets:
The iOS 8 widgets place in the pull-down panel which are available from any screen, but selection of the widgets are restricted in the Apple's iOS 8 as compared to Android L's rich widgets. Generally, we all know the fact about Android that it is fully customizable ruler of widgets. If we want to make personalization, then it will be very flexible in Android 5.0 Lollipop as compared to iOS 8.
Lock Screen:
If we compare the lock screen of Android L and iOS 8 then Android L's lock screen is surely more freely flowing and user friendly than the iOS 8. Android offers you to swipe a finger in any direction while iOS will only allow you to swipe a finger in the right direction only. You can access the camera and device's dialer from the lock screen of the Android's Lollipop while in case of iOS 8, we can only access the camera app.
Gaming:
When we are talking about Games, no doubt that Apple comes always first by beating the Google's Android. The iOS 8 gives you the new gaming API which will be very useful for the iPhone game application developers to use extra command directly.
You Might Also Like: Know More About Android 5.0 Lollipop
As per our discussion, we can see that Android is upgrading its technical essentials to match iOS like in speed and battery life. While iOS is upgrading just to beat its earlier versions with better functionalities.
We can now decide which mobile operating system will lead the market 2015, Android 5.0 Lollipop is all about new facilities with more attractive designs and features, improved safety, alerts, and notifications. Apple iOS 8 is all about the filtering the experience with iOS 7, it has fully protected security feature and supports the best library for commercial apps. Thus, these both OS are reliable for all and stands for its own new and upgraded features. So, you can go for any of these as per your personal choice and requirements.