From the last couple of days, our social media accounts are being filled with friends and family's rangoli pictures, traditional theme parties, and Diwali 2016 celebration posts.  We will not break this social trend because we are also going to post a glimpse of our office's pre-diwali celebrations. We-Logisticians are always ready to enjoy any kind of celebrations whether it is related to birthday, theme parties or any festival celebrations.
The pre-diwali celebration started with full of joy and happiness. Our enthusiastic logisticians have decorated the whole office with colorful stickers of diya, crackers, lamps, ribbons, chandeliers etc. some of our talented logisticians have designed amazing rangoli every day with flowers by applying their awesome creative ideas for pre-diwali celebrations. The office of Logistic Infotech was stunningly decorated and reception area was having sweet fragrance near rangoli which were made by natural flowers.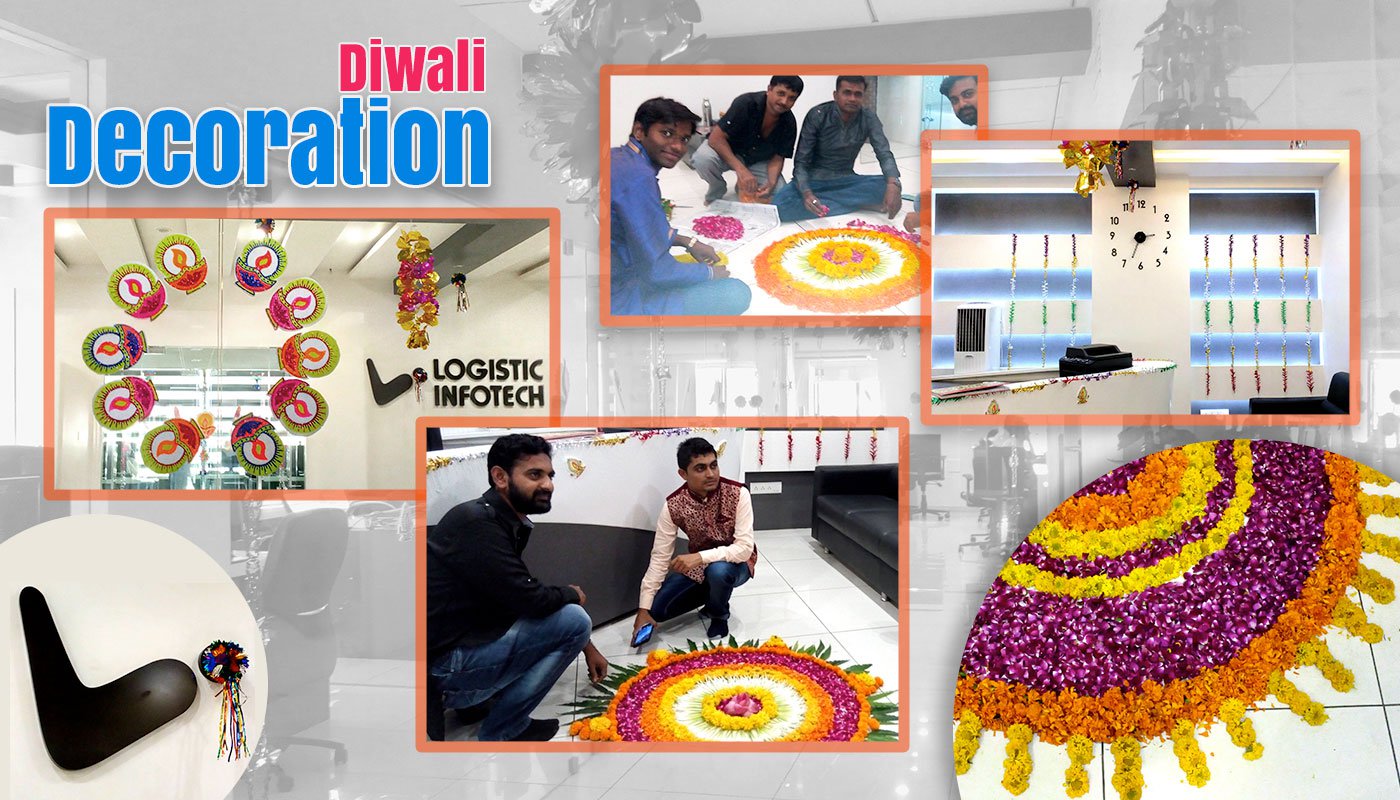 The Diwali celebration was celebrated for logisticians on 28th October 2016. All logisticians came in ethnic or traditional wear. Boys were looking handsome and dashing in a traditional outfit like kurta, while girls were looking beautiful and pretty as well in dress, choli and indo-western outfits. The main celebration was started at evening with the first event which was Fashion show. Each of the employees of the Logistic Infotech participated in the fashion show with outstanding ramp walk. Logisticians had to do ramp walk in their unique style with some cheerful music. Everyone had their own style and actions to pose for a good picture. 😛  Some of us had rocked the event by copying famous actor's signature style. 😀  We all were cheering the participants to encourage them. At the end of the event, our top management team of 4 whose mind was behind the establishment of Logistic Infotech had also participated in the fashion show by doing ramp walk with their rocking style as always. 😉  We really enjoyed the fashion show event and had lots of fun. 🙂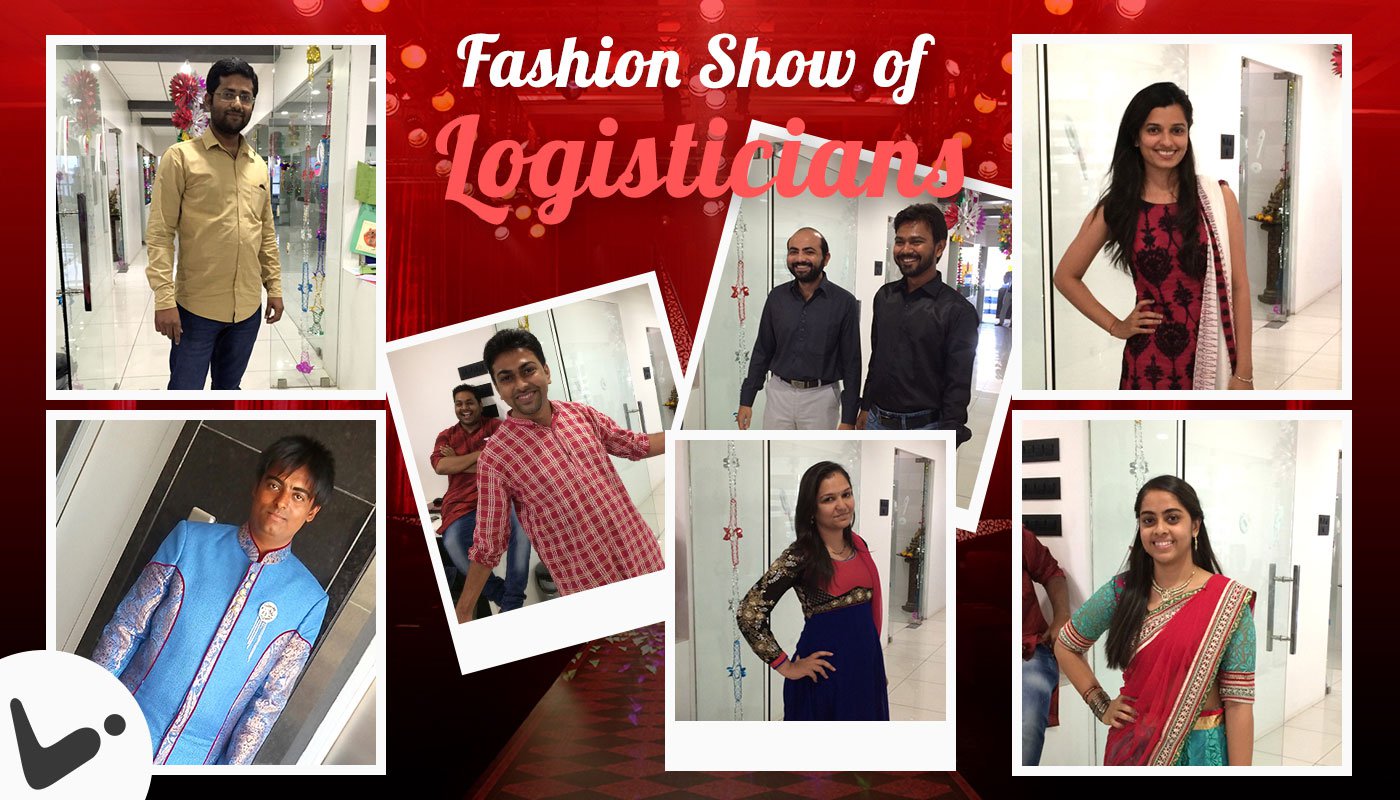 The second event was the Diwali card decoration competition. Some of the card decorating items provided by the admin department and those who wanted to make something different to win the competition had brought their own decorating items. Logisticians had to show their excellent creativity through the Diwali card decoration. All Logisticians were busy to decorate the card at their level best. After completing the card decoration, the cards were showcased on the desk for all to view other's creativity to learn something new from it. There were many creative cards which were extremely good. I must say, there was very strong competition between some of the Logistician artists. 🙂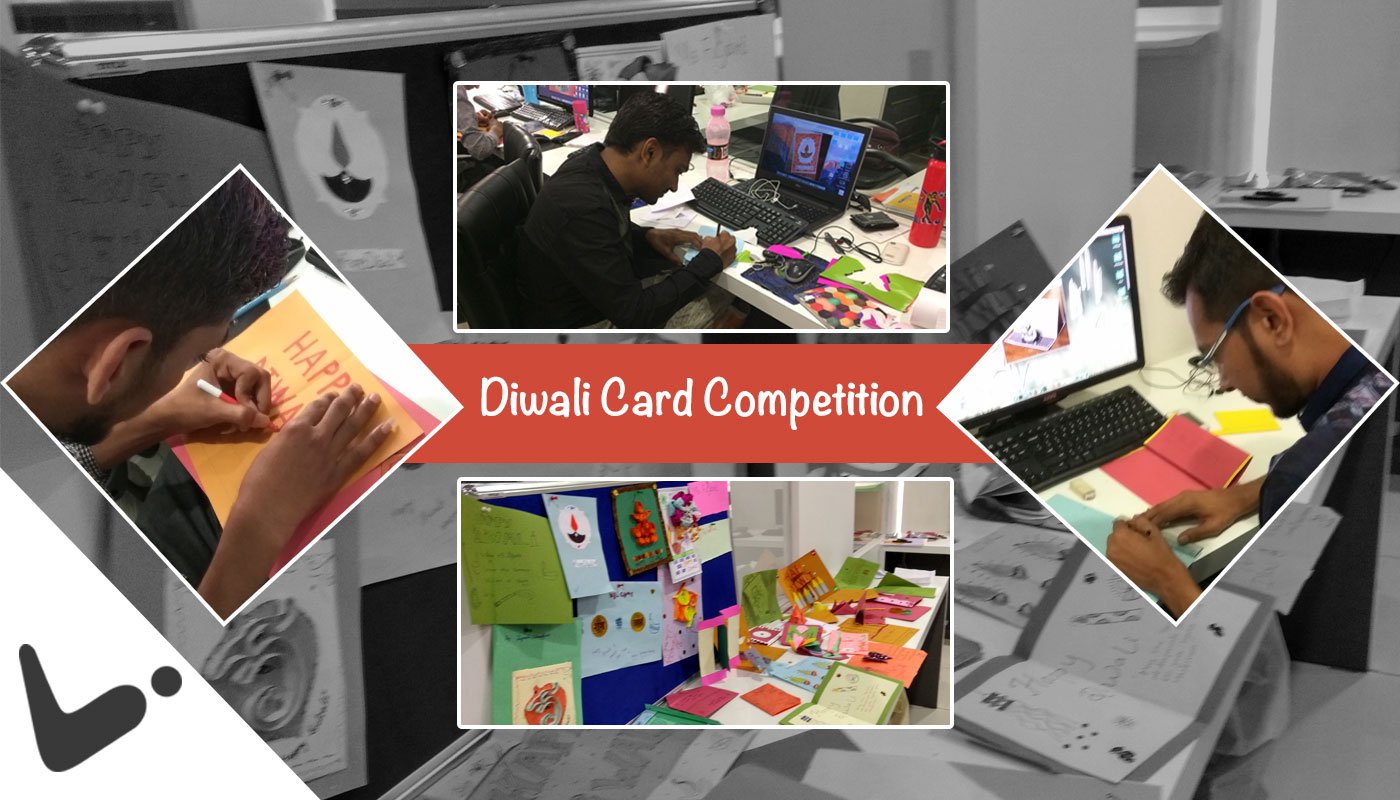 After completion of both events, the time was about to announce the winners from both the events by giving public votes to the most amazing performance. There were two winners from both for the fashion show, one is from boys and one is from girls. The winner from boys was named as "Mr. Patakha" 😉 while the winner from girls was named as "Ms. Fuljari". 😛 Mr. Patakha award was given to Mr. Harshil and Ms. Fuljari award was given to Ms. Bhumi. Both of the winners were well deserved because they were well dressed in traditional attire, had amazing ramp walk style and the picture perfect pose. Although there was tough competition between talented Logisticians in card decoration, we voted for the best card which was creative. From many cards, there were two highly voted cards so; there were also two winners for card competition. The card competition winners were Mr. Jack and Ms. Kirshna who had showcased their outstanding talent through their card decoration creativity. There was a surprise gift for the winners and they were recognized by our respectable owners for their excellent performance in the Diwali celebration event.
At last, the day was ended with some spicy food with chilled cold drinks. Logisticians had really enjoyed the event and food party thrown by our management team of Logistic Infotech. The day ended with unforgettable memories which can't be described in few words. The event was a huge success due to highest participation and enthusiasm showed by Logisticians. Logistic Infotech has kept the tradition of Diwali by giving sweets to all the employees as an auspicious gift for Diwali. All Logisticians were given delicious Kaju Katlis for Diwali wishes to their beloved families.
On this auspicious festival of lights, may the glow of joy, prosperity and happiness illuminate your life and your home. May this Diwali, you be blessed with good fortune.
Wishing everyone a very Happy Diwali and prosperous Happy New Year from Logistic Infotech Family 🙂