Nowadays the mobile technology has become an important part of everyone's life. We wonder if anyone has no smartphone these days!!! So, we can directly connect the smartphones with their Mobile app development. We have seen the demand of mobile application developers is becoming extremely high.
Due to this digital world, the mobile app development is very famous to set one's career who wants some break into the IT field and especially with the mobile technology's World – like iOS, Android, BlackBerry.
We see many adverts everyday bubbling on our screen, so there is a crowd of mobile app developers who wants to sharpen their knowledge in mobile technology. Mobile App Developers should have some strong skills for fantastic mobile application development.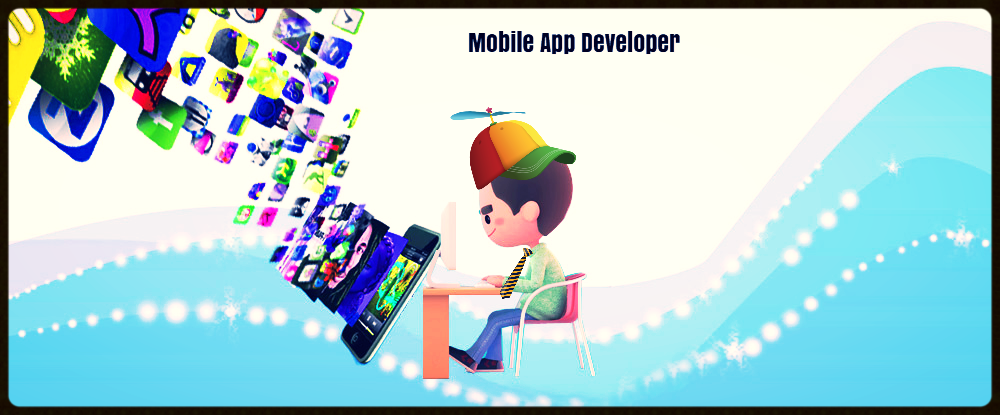 Required Skills:
Cross-Platform Development:
In the Mobile app world, you have the handful skill for developing apps on all the platforms and you have enough experience of any sort of mobile app development for any sort of device.
Candidates who have iOS, Android or BlackBerry programming skill and experience are highly demanded.  As soon as your app will be live on the Apple app store, App's similar version on Android and BlackBerry OS will be on the mobile world. So it's more important to have the cross platform development skill to perform on the multiple platforms with its functions, that will make you more appealing to the multinational employers.
If you have enough experience in responsive site development then it will be boosting up your value for a position where you can develop mobile-friendly websites.
UX/UI Design Skills:
For Mobile Application Development, it's not enough to simply work on coding only. You must have the ability of UX/UI design to Attract more users towards your apps. There are millions of apps obtainable in the market, but some features like your app should be easy to access, have a good and user friendly design with efficient usability will make your app special from others.
With best UX/UI design skills and developing ability will be beneficial and thus, employers will also recommend you for their mobile app development to make that their apps have more chance of selling in the digital market.
Modern Programming Languages:
This Skill is worth to point out, although it's pretty to discuss. Any Employer will look for the Excellent mobile app developer who can easily grasp all the techniques and have that much knowledge and experience about modern programming languages.
Mobile Developers should have the knowledge of the front end development and good cognition of modern programming languages like Java, C#, HTML, PHP, Python, Objective C. When you have an experience of working on these languages, then you can make your own higher stand when it comes to applying for these all roles.
You can also go for the Apple's X code development language which could really help you out to set yourself apart from others.
Agile Methodologies Expertise:
If you want to go for the mobile app development, career then you should know about the Agile methodologies. Agile methodologies are a group of methods which is the solution created with the help of strong collaboration among self organizing teams and cross – functions.
The Agile methodologies are the most common method for working in mobile application development industry. So if you have the experience of working in this environment, then you will have a good chance to the mobile app development industries.
Degree Or Equivalent Education In Computer Science:
An academic qualification is not necessary for the mobile app developers, but it is only required for the satisfaction which ensures you are coming from the IT background whether it is online degree, or any computer science degree.
If you don't have the qualification degree, then don't worry because if you have enough talent and practical experience or some of the apps are already in the app store, then you can easily prove yourself that you are the perfect person who fits into their requirements for the mobile application development.
So, here are the top 5 skills which should help the mobile app developers required for the mobile industry.