Students planning to pursue their career in software development are the right audience for this article and if you are one of them looking for excuses to learn Node.Js, then let me tell you, you are at the right place.
Node.Js is one of the crucial skills to expertise in today's world. If you are aware of coding, I assume you don't need an introduction to this course but if you're a newbie, remember that this hottest technology is the key to get into the coding and programming market.
Node.Js is a popular JavaScript tool built on Chrome's V8 JavaScript engine. This tool, although has been around for years, but lately has gained significant awareness due to its seamless model. If this content is still fascinating to you, you are ready to move on to the next shred, so let's go!
A Must-Have Skill For Your Career Growth
Career growth has always been a very important aspect for mankind, but the COVID outbreak has made it more critical. In today's saturated market, to outstand yourself from the rest of the prospects, it is essential to boost your skillset and include skills that are greatly in demand, and Node.Js is one of them.
This skill is a grand gateway to open up remarkable career opportunities. Though all programming languages have great benefits, Node.Js today has all the eyes. The hype of this language is real because of the outstanding features it offers. From easy access to data to streamline the process, Node.Js programming language has its own benefits, which is why for the last two years, most companies and startups have been choosing this language over all other available options.
Five Reasons Why Students Should Learn Node.js
With the bit of introduction and overview, let's head on to the five main reasons why you need to join the next Node.Js session. I'm sure by the end of this course. You will be compelled enough to be an expert in this field, so let's get started.
There's not enough words to your resume. The more skills you add to the page, the better your application gets. Also, today most of the recruiters prefer Note.Js experts to any others because these people know how to turn a complicated task into effortless and undemanding work.
Also, expertise in Note.Js opens an excellent community to get yourself registered into. This open-source charter has a house full of passionate programmers who can work on different sets of programming. Earlier, coders and programmers had to adapt to multiple languages, but now with Node.Js, you don't have to practice on different programming languages to modernize your work.
As said earlier, employers and recruiters today prefer candidates with Node.Js expertise. Why? Well, because of its unified and faultless features. The working and coding done using Node.Js are smooth and offers flawless functioning, which is why more than two hundred highflying companies have employed Node.Js in their production. It includes well-known business names like LinkedIn, Uber, PayPal, etc.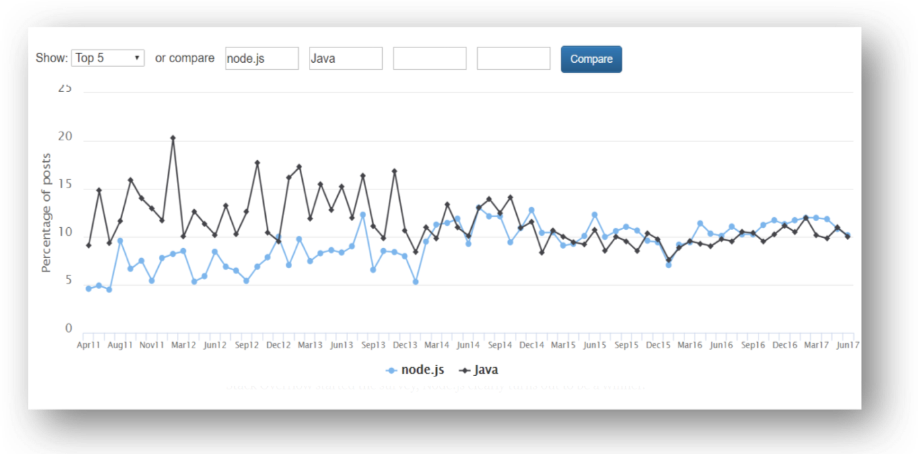 Equated to other web development technologies, this gear is more popular and is continuously rising in the game. Even if you compare the stats, Node.Js has defeated Java too, which has been the most popular programming language for more than a decade.
3.You Can Become A Full Stack Developer In Shortest Time
Being an expert in Node.Js, you can learn a more focused form of full-stack development is probably the shortest time possible because you will be working with the entire server, not just either front end, back end or database administration.
With Node.Js, you can use JavaScript as a server-side programming language with different frameworks and start working as a full-stack developer, and all credits go to this smart tool.
One of the most convincing reasons to study Node.Js is its mildness and easygoingness, which is not only acquired by coders but also newcomers.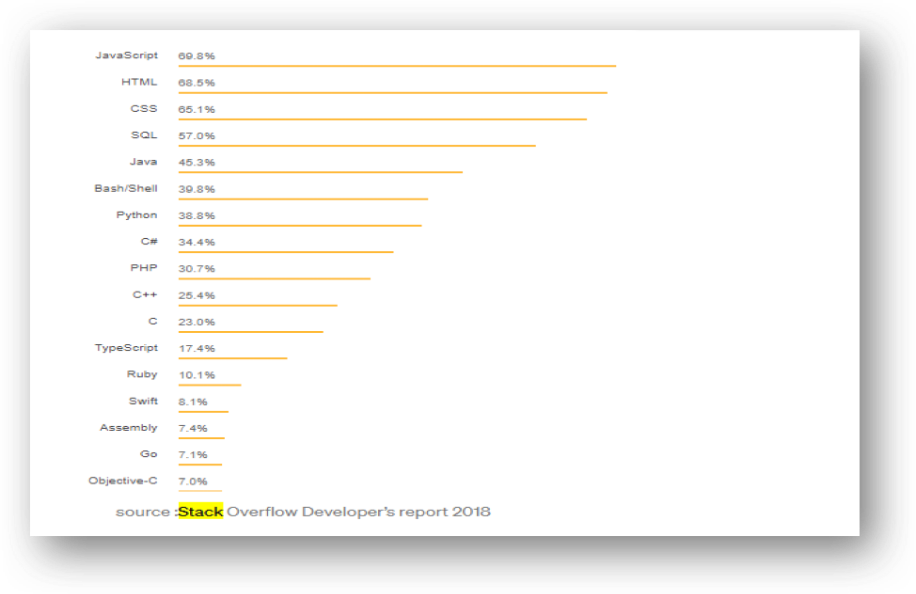 This language is written in JavaScript, for which you don't have to be an expert, a know-how is enough to excel. An essay editing service UK states that JavaScript is almost known by everyone and is one of the most admired and extensive programming languages worldwide.
They also believe that even a junior JavaScript developer requires very little time to pick this language up, so what is your excuse to not opt this language for?
5.Trouble-Free Data Management
Last but not least, to streamline the data collection and data handling process, there's no rescuer better than Node.Js. This technology manages the I/O process efficiently, which lets the user translate information from codes easily.
You can also transcode media files at the same time they are being uploaded. This process helps you save time and comparatively takes less effort than other processing methods. With Node.Js, you can simplify your I/O work remarkably.
Stella Lincoln is an Assistant Editor at Crowd Writer, which is one of the best platforms to acquire your essay help online with professional assistance. If you are looking for assistance related to web development and programming languages, Stella is highly recommended to get in touch with.