Are you excited to get iOS 9 on your iPhone or iPad? Great news for Apple lovers!!! The iOS 9 is finally here to serve you something advanced features and that is available for download on all Apple Touch models like iPad, iPhone, iPod as well. The iOS 9 brings some improvements which ensures a better user experience like in performance, security and battery. Let's have a look at some of the best improved features from this new version of Apple OS launched in Apple Event 2015.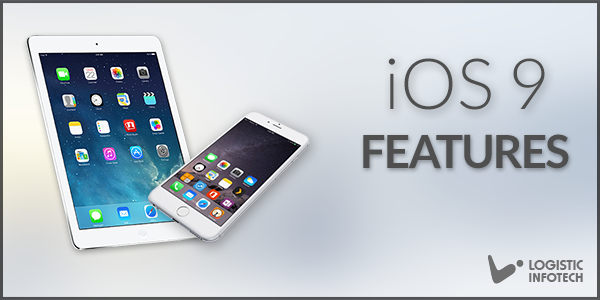 If you are really a big fan of Apple then you have seen how iOS have developed year by year, You might be wondering what Apple has raised up their market. The iOS is well known to offer better user experience and a great performance too, but it does not just stop with that.
Logistic Infotech gives you all the detailed information about the new hidden features of the iOS 9 which have been recently launched in the Apple's Event 2015.
The iOS 9 Features:
The iOS 9 is one of the best operating system today in the market and Apple has ensured that their users will not be disappointed.
Improved Battery Life:
The iOS 9 is very efficient and is specially made up for the reduced battery capacity in iPhone 6s and 6S Plus. Apple assures that all the existing Apple touch devices will now last longer in battery life with the newest version of OS and iPhone 6 getting extra usage hours from each charge.
Power Saving Mode:
At that time when you really want to save on battery, A power saving mode has been added to the new version of the Apple OS, which will provide the device with the extra 3 hours of battery life!!! We get to know that the sacrifices made to enable this mode still have not been revealed by the Apple company.
Quick Type:
The iOS 9 will allow its user to see when to use shift to a virtual keyboard and gets activated as the letters will switch better lower or upper case. There are some new shortcuts and predictions will also be seen in the new version as iOS 9.
Back Button:
Yes, exactly!!! Now your iPhone is finally going to get its own back button which has been in demand for a long time. The back button will appear on the top left corner of the screen whenever a user moves from one app to another.
Multitasking With Split Screen:
Excellent news for iPad users, the iOS 9 will allow iPad users to open 2 apps simultaneously using the new feature i.e. Split View. You can play your favorite game on the screen's left side while you can check mails on the other side! Picture-in-picture will allow a user to have a Face-time chat as well as search for stuff o  the web browser at the same time.
Smarter Siri:
The new Siri is now smarter than older one. The smarter Siri in iOS 9 will now offer vital information and useful suggestions to the users even before they ask for it. For example, if the user goes to a specific coffee joint everyday exactly on same time, then Siri will automatically tell him when he will reach there when he leaves his house. With the help of Siri we can handle many more requests as well as queries, so we can say it is obviously getting a kind smarter than earlier versions.
Directions In Transit:
The application of maps will get public transit directions in the new iOS 9. Apart from giving you directions as to  which train you should go on and which bus should you take, you will also receive walking directions so that you can find the correct bus.
Updates On Wallet:
The passbook is renamed to the wallet in iOS 9 and name changes come with several new features too. Wallet can easily hold credit cards and membership and reward cards.
Notes App:
The updated notes app will allow the user to make a checklist of things to be done quite easily and also allows photos or web links to be added into any specific note. For those people who wants to get all details, they can draw a sketch with their fingers beside the note. Moreover, changes made to the note will be automatically updated at iCloud.com and across all the devices used by that specific user.
Better Security:
Users will be able to keep their devices more secure with the help of iOS 9 as the Apple ID secure will aim to protect the user's personal information. The newer version of the OS will make strong security via the passcode and make it difficult for others to get access to others Apple ID account and its details.
You can go for the iOS 9 download easily. Just check the system updates if you still haven't got any kind of notification from Apple yet to upgrade. You will be set back by a few hundred Mega Bytes but believe me it's worth it. The iOS 9 offers a lot of new features, you surely would be missing out of the upgrade. No one likes to miss out improved battery life, Back Button, smarter Siri on their iOS device.