Currently there is trend of something extraordinary apps in the mobile market. Nowadays the small businesses are interested in Android app development to boost their business sales to cover up a large number of clients on their list. There are many business apps having big names in web like eBay, Amazon, etc. who are more famous and beneficial businesses gaining so much through building their own mobile application development. Basically, there are prominent channels for the app distribution known as the iOS App Store for the iOS apps and Google Play Store for the Android apps.
Check Out The Steps For Android App Development Slide For Better Understanding ->
Importance of SEO For Android Apps Development:
As per the Analysis, more than 60% users search applications using the app store search which matches with the web search criteria. Over 75% organic app downloads in the Google Play Store come from search results which points the Android app developers to learn and apply the aspects of SEO to make their android applications popular. The App Store or the Google Play Store visibility correlates search visibility and impacts on the organic search. So, it's clear that you should go for SEO friendly Android application development which leads to a grand success in the mobile market.
SEO Friendly Android App Development:
Let's Go for the SEO friendly android app development to make your android application popular in the Google Play Store by App Store Optimization (ASO).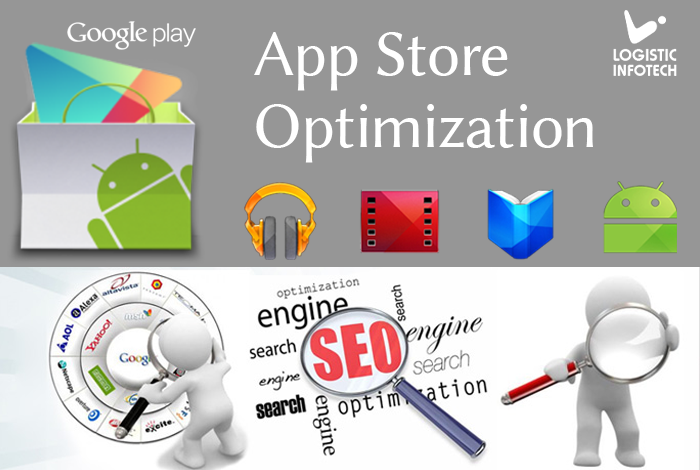 There is a huge difference between optimizing any website, mobile site, or search engine than doing SEO for mobile applications. Some of the basic elements for search engine optimization like meta data, keyword research are common in both.  You should go for the following stuffs when you are going for productive Android app development by implementing App Store Optimization.
Title

Description

Keywords

Images

Reviews and Ratings

Link Building
Title:
Now, SEO professionals are exploring more on a search algorithm of the app store to excel in ASO (App Store Optimization). The title of an Android app holds a significant value for getting better rank in ASO. The title has the same value as <title> tag in the header of the website.
At the time of App Optimization title includes some golden rules like:
Title must be unique and genuine.
The title should clearly mention your company or brand name.
Title must contain targeted keywords from keyword research.
The title should be a short and complete phrase.
You can prove you are not spammer by putting keywords repetitively and retain the reliability of users and search engine bots.
Description:
Just like the meta description of the web page, the app's description also needs to be filled with unique content within limited characters. The unique meta description is not hidden from any inbound marketer or exploiter. You should use this field in best way by putting the complete and precise information using the targeted keywords as per your application.
Keywords:
After doing some deep research from keyword research tools like a Google Keyword Planner you should use long tail keywords. Your keywords must be relevant to your app, brand or business. Avoid extra keyword stuffing in the keyword's field, tag or label field or any other places which describes your android app concepts to the end users.
Images:
Image in the application means the pictorial content of the app. For example, snapshots of an application, logo of your brand should be there in your app to preserve the reliability of the credible users. You can use ALT tags and file names with your keywords. Image name must be valid and related names instead of using numbers. The images need to be informative and interesting to attract the app users.
Reviews and Ratings:
The social mentions or citations helped in getting better SERPs just like it ASO also requires the techniques like web 2.0 features. User reviews on the google play store or outside blogs can improve the authority of the application page in web search. High number of reviews as well as ratings in the Android app market help your app to be featured in the series with effects the number of downloads.
Link Building:
The app store optimization also recommends for link building because it has also higher ranking values for its search results in both web search as well as app search. For Link building, appropriate use of anchor texts and authority links can make the process google friendly.
As we all know that web SEO is not same as App Store Optimization. So, currently the international SEO consultants are refining their knowledge and experience of Google play store app search algorithm for ASO. Thus, above aspects suggest the geek Android developers a way to make famous and can get a higher rank for their Android apps with SEO affluence. If the Android app developer goes for the SEO friendly Android app development then it will be very helpful to make unbeatable profit with the highest rank of the app in the Google play store using App Store Optimization(ASO).