dApps, also known as decentralized applications, are free and open-source applications underpinned by smart contracts and work on the P2P network of servers. These apps pivot around the blockchains such as Binance, Ethereum, EOS, smart chain, and more. These applications do not rely on central servers to mitigate the risk of failures and make them more reliable than traditional applications.
By eliminating all the middlemen, the decentralized applications will allow for greater freedom, transparency, and security to redefine the process. It has led to the Development and growth of the Ethereum dApp development, EOS, dApp development, and many more. Logistic Infotech is your best company if you are looking for the best Defi dApp development services.
Logistic Infotech – The Top Defi DApp Development Company
Logistic Infotech is a leading Defi decentralized application development company with years of experience in this field. We will create the harmonious trifecta of our technical expertise, deep domain knowledge, and expertise to provide secure, trustless, and scalable dApps across the industry. Logistic Infotech harness different blockchains such as the EOS, Ethereum, BSC, Polkadot, and more to help our clients build the personalized dApps which align with the needs of our client's business, our services will allow you to penetrate the market and make a significant impact.
Our blockchain experts and subject matter professionals will come up with a coherent roadmap to direct the development journey while ensuring top-class solutions and service quality.
Our Defi DApp Development Services
Our knowledge and expertise in this field encompass a wider span of top-notch features and functionalities to help brands like yours become industry leaders.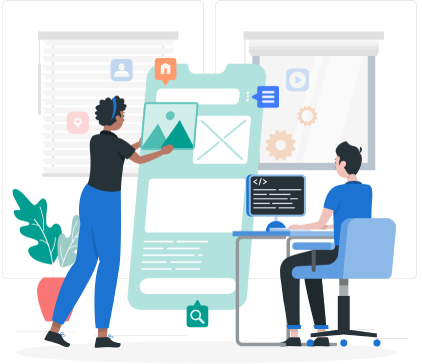 DApp Consultation Services
01
Our experts are always updated with current market trends regarding the DApps market. Hence, we can help you analyze the prospects of the project's success. With our quick consultation and guidance on the business and technical aspects of the project, we can help you choose the right and most appropriate platform for dApp development services in India.
dApp Design
02
In terms of dApp designing, we will create the frontends which are simple, intuitive, and engaging for the top-notched and optimal user experience. We will follow the user-fist explanatory and seamless navigational interface, which is easy to use for both newbies and experienced users.
dApp Integration
03
Our team of professional dApp developers is an expert in creating intuitive decentralized applications that will provide the best user experience. Our designers can craft the best and most interactive applications while offering the best quality 8 support for the dApp integration to build apps with unique features.
dApp Development
04
Our developers will ensure to offer you the flawless working of your decentralized applications. We have equipped with skilled and experienced designers and developers the top-notched decentralized applications for a wide range of businesses. We, as the top Defi DApp Development Company, can help businesses with a competitive edge in the blockchain industry with decentralized exchanges and solid, smart contracts.
dApp Maintenance
05
Once we deliver the product, our job is still not finished. Our working professionals will provide end-to-end maintenance services after project delivery to ensure that your application works flawlessly. The post-maintenance from our company will provide timely upgrade services to prevent potential downtime.
dApp Testing
06
Logistic Infotech ensures that there is not any issue in the dApp project. We do it by regularly testing the application deeply and thoroughly across operating systems, devices, and platforms. Our professional testers will ensure the greater performance and utilization of the dApps as they come up with bug-free dApps.
Technology That Supports Our DApp Development Services

Ethereum Geth
Logistic Infotech utilizes the Geth for launching the Ethereum node. Fund transfers between the addresses, mine the ether, explore block history, and create contracts.

Zeppelin
We use the Zeppelin tools to ensure security audits on smart contracts and effectively manage reusable smart contracts.

TestNet
We test our dApps blockchain test net before launching it on the mainnet to prevent system bugs and issues.

Truffle
As the top Defi DApp Development Company, we use Truffle, which offers the development environment and asset pipelines for the Ethereum app development. It will allow us to offer custom deployments for several public and private networks.

Blockstack
Our efficient dApps team will use the block stack to form scalable decentralized applications allowing the users to own their data. The platform will allow us to write decentralized applications in any programming language.

Remix
We deploy, create, debug and test smart contracts written in the solidity language on Remix. It is a browser-based IDE. With this, you can connect with the Ethereum Blockchain through the Metamask.
Backend Programming Languages We Are Experts In
Solidity
We are a leading Defi DApp Development Company that can write smart contracts for blind auctions, multi-sign wallets, and crowdfunding in the solidity programming language. It is an object-oriented language that supports libraries, user-defined, and inheritance types.
Rust
It is a multi-paradim, statically typed, high-performance programming language. With the primary goal of safety and performance, it helps developers to develop resilient and stable applications.
Golang
Our team of professional developers knows all about Golang and uses it to write the chain codes in the Hyperledger Fabric. It is a free and open-source programming language with an independent platform.
JavaScript
We utilize JavaScript to keep the coding of the dApps. It is a prototype and dynamic language which will support the object-oriented and declarative styles.
Java
We use Java to write the microservices code, which will be used in the dApp if needed. Moreover, several SDKs for blockchain platforms are in Java.
Node.Js
We fully understand all about Node.Js, which is used for building the backend of the real-time multi-user dApps.
Why Choose Logistic Infotech?
By choosing logistic Infotech, you will work with professional and top experts with real-world experience in creating the best success stories.
Technical Upper-hand: we only work on blockchain technologies, and we do it till perfection.
Rapid Development: we offer personalized products suited to your target audience. The coherent roadmap will make sure seamless and accelerated deployment and Development.
Complete Support: our work is not completed after the product launch. We will offer post-delivery Support for your growth.
Connect with us now and allow us to grow your business and take it to the next level.
Our Defi DApp Development Portfolio
Meet successful people online! Glambu is a private community of successful, attractive, and ambitious people who deserve a life of luxury and pleasure.
Frequently Asked Questions