As per the Apple Event on 9th September 2014, the Apple has announced their two iPhones named as iPhone 6, iPhone 6 Plus. These are, the bigger, better and faster as compared to their earlier versions in the iPhone history. The iPhone 6 having a 4.7 inch display while the iPhone 6 Plus, having a 5.5 inch display. They are stunningly packed with the advanced technologies in all in one thin and seamless design. The new iPhone has an anodized aluminum body having seamless with shaped glass of the display and this covers it with smooth and continuous surface. The iPhone 6 and iPhone 6 Plus are designed in a way that they are bigger, thinner and easy to use iPhone ever.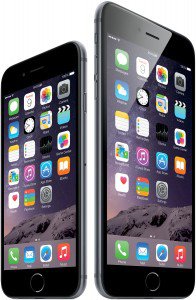 The CEO of Apple said that In the iPhone history, iPhone 6 and iPhone 6 Plus are the biggest advancements. Most of the users love the iPhone with the highest customer satisfaction in the industry. He has also added that they are also trying to make even better in each way and in the market only Apple can combine the combo of the perfect hardware, innovative software and the best services so the customers are going to love it even more.
The iPhone 6 and iPhone 6 Plus has some of the innovative technologies like:
Bigger Display
A8 Chip
2nd Generation of 64 bits architecture for power efficiency and fast performance
M8 Motion Coprocessor
iSight and Face Time HD Cameras
Faster Wireless Technologies(LTE, WiFi)
Apple Pay
iOS 8
Advanced messaging and Photos Features
Quick Type keyboard
Health Apps
Family Sharing and iCloud Drive
Here we are discussing about the best features of iPhone 6 and iPhone 6 Plus:
Display:
There are two sizes of iPhones available in the market. One is iPhone 6 that has 4.7 inch Retina HD display having 1334 X 750 resolution while the other is iPhone 6 Plus which has an even bigger screen as 5.5 inch Retina HD display having 1920 X 1080 resolution.
A8 Chip:
The iPhone 6 and iPhone 6 Plus are with 2nd generation 64 bit desktop class architecture. The Latest A8 Chip gives faster access and is more energy efficient with the improved battery life. With the help of new graphics technology in iOS 8, developers can make the powerful performance by bringing class 3D games for iPhone. A8 chip also enables advanced camera as well as video features.
M8 Motion Coprocessor:
The iPhone 6 and iPhone 6 Plus both supports to the M8 motion coprocessor which collects data from the gyroscope, compass, accelerometer and the barometer that senses air pressure to provide relative advancement. The M8 motion coprocessor continuously collects data even when your device is asleep, which helps to save the battery life. It also supports the health apps to measure how much you walked or run with the health kit to give you a benefit of better care of your health and fitness.
Apple Pay:
The iPhone 6 and iPhone 6 Plus are also coming along with the new feature that is Apple Pay which facilitates us to pay the bill for products, and service in stores with just the one touch of a figure. A user can pay the bill by simply putting their phone near by the contactless reader and keeping a finger on a touch ID without unlocking your iPhone or launching an app. You can purchase in app purchase, no need to enter the credit card number. So, all kind of the information is kept private and secure.
iSight Camera:
The iSight camera gives better sensor featuring Focus Pixels for faster autofocus so that you can capture any moment easily and quickly. It supports high definition video on iPhone with improved faster frame rates, continuous auto focus, time laps video, and cinematic video stabilization. The Face Time HD camera clicks over 80% lighter with a new sensor, larger aperture and advanced features like HDR video and burst mode.
LTE and WiFi:
Now iPhone 6 and iPhone 6 Plus users can browse, stream or download content with faster LTE download speeds up to 150 Mbps. It also gives the best result for the high quality voice call over LTE as well as WiFi connection. It supports 20 LTE wireless bands which is higher than any other smartphones all over the world. It gives the high speed networks in the whole world with the new iPhone models. Both iPhones include Bluetooth 4.0 and 802.11ac WiFi with 433 Mbps speed.
iOS 8:
The new iPhones are coming with iOS 8, it is the biggest release since the App Store launch. It has some new features like new health apps, Quick Type keyboard, Family Sharing, iCloud Drive and they are proven as a simpler and faster than older versions. iOS 8 has more than 4000 APIs and allows the framework like Health Kit and Home Kit. The iPhone 6 and iPhone 6 Plus users also can access the App Store that offers millions of apps for their iPhone, iPad, iPod around 155 countries in the world.
The iPhone 6 and iPhone 6 Plus is now the new trends among the youth and collegians. There are also many iPhone applications for the latest iPhone 6. You can purchase apps from the Apple store. Currently, there are many iPhone Application Development Companies who provide advance iPhone app development services. If you are interested to make your own iPhone application development then feel free to contact us and we will make your dream true.
Thus, we can see the iPhone 6 and iPhone 6 Plus are so much demanded in the market nowadays in Us. After some time it will be also launched in the India. I think most of the iPhone lover will surely going to purchase it.
Keep in touch with us to know more from Logistic Infotech.